ABOUT HOUSE OF CALLY
House of Cally is a contemporary illustration and design company founded by London-based artist Cally Lathey. Since graduating from Central Saint Martin's School of Art, Cally has been creating and producing her own unique style of artwork. She works with a wide variety of media, including illustration, screen printing and fabrics. In her designs, she draws inspiration from childhood memories of growing up in London. This includes visiting museums, trips to the zoo, walks along the Thames and playing in many of the cities beautiful parks.
ILLUSTRATED MAPS OF LONDON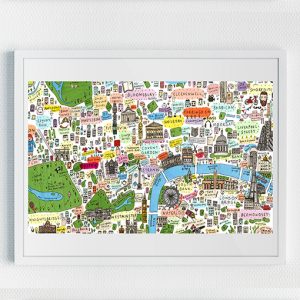 We present the illustrated maps of London by House of Cally. In recent years, Cally has produced several meticulously hand-drawn maps of London. Her first foray into the world of map making came in 2014, when she released the first edition Illustrated Map of London. This was a bold and fun depiction of London, featuring famous landmarks and personalities closely associated to London. In 2016, she released the second edition Illustrated Map of London. This project was more ambitious inasmuch that it covered a much larger geographical area of the capital, as well as an abundance of cultural references. Spurred on by the success of this map, in early 2018 Cally embarked on her latest project; the Illustrated Map of London History and Culture.
LONDON TEA SETS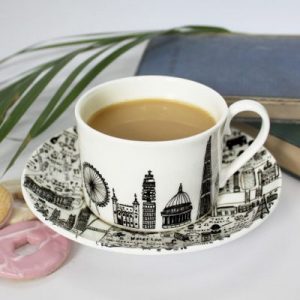 We present the exclusive London teacup and saucer sets by House of Cally. There are 6 sets in total, representing the central, west, east, north, south-west an south-east areas of London. Each set contains a teacup and saucer. The cups feature recognisable buildings and structures found in the different areas of the capital. Whereas, the saucers depict meticulously hand-drawn illustrated maps of London. Packed with detail, ranging from London's world renowned cultural and historical heritage to the more obscure cultural references. The high level of detail means that you will spot something different with each brew! The sets are made from fine bone china and are proudly produced in the heart of the Potteries in Stoke-on-Trent.
MAP OF LONDON HISTORY & CULTURE
This map took Cally 11 months to create, from inception to completion. Cally spent months of intense research and fact checking, before moving on to the painstaking process of hand-drawing the map using fineliner pens. The final stage of the map making procedure was the addition of colour using Promarker pens.
Cally chose a pastel colour palette for this project, drawing inspiration from the work of David Hockney and photos of 1950s Las Vegas. This incredibly detailed map is full of London-related facts, iconic landmarks and some lesser known places that the capital has to offer, as well as some famous faces from past and present.